When:
April 1, 2019 @ 6:00 pm – 9:00 pm
2019-04-01T18:00:00-07:00
2019-04-01T21:00:00-07:00
Where:
Overflow Taps
2930 Newmarket St Suite 117
Bellingham
WA 98226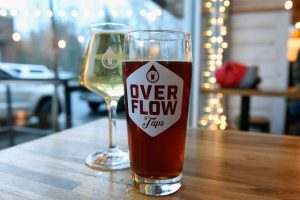 Looking for VIP April Brews Day 2019 tickets? Overflow Taps is partnering with the Max Higbee Center to have a limited amount of VIP tickets on hand for sale at this event!
Tickets go on sale at 6pm. Limit is one per person and you must be present to purchase.
THE DETAILS:
– Learn more about Max Higbee Center, the local nonprofit behind April Brews Day. MHC has been organizing April Brews Day, (and raising money for their recreation programs for people with developmental disabilities!) for 18 years now!
– Chow Gourmet Hot Dogs will be in the house from 6-8pm, they're donating $0.25 per dog!
– Boundary Bay is bringing swag to giveaway
– Our trivia host, Will, is doing a single FREE round of trivia at 6:30pm
– Participate in a 50/50 raffle for the Max Higbee Center
To top it all off, $0.25 a pint from both locations will be donated to the Max Higbee Center. And Boundary Bay is pint matching on all Boundary Bay beers too! That's a total of $0.50 per pint!